Curators: François Cheval and Yasmine Chemali
In partnership with The Harold Feinstein Photography Trust.
This exhibition takes part of the Rencontres d'Arles program as part of the Grand Arles Express manifestation
Harold Feinstein cannot be reduced to a single series. Nevertheless, for this native of Coney Island, this 'land without shadows' remains first and foremost the field of his photographic practice and above all the perfect illustration of a certain vision of American society. There is no 'pure' contemplation in these images, it is above all an ethical disposition, an aesthetic of the ordinary. There is nothing important in these series of small moments. All of this ultimately composes an ensemble, a great songbook in the midst of the upheavals of American society, with the Great Depression, the exacerbation of racial tensions, McCarthyism, etc.
It was then, in 1952, that the young Harold Feinstein, drafted by the army, found himself in the American expeditionary force in Korea. The format that Harold Feinstein experiments with in the Korean narrative brings together the every day and the art of the blues. He invents a narrative full of shades of grey and delicate contrasts. The slow rhythm and muted tones all provide extreme consistency to a series made up of sensitive appropriation and abandonment of the subject to the photographer's desire.
Upon his return to the United States, Harold Feinstein established himself in the Jazz Loft, New York, where he met the musicians Hall Overton and Dick Cary. This was the period in which he began his collaboration with the Blue Note Records label. Crucially, he also met W. Eugene Smith, with whom he collaborated on the layout of the Pittsburgh Project.
It is this vision of the world, of photography committed to the benefit of a united humanity, that the photographer seeks to convey. His approach is in some ways close to 'street photography'. His images taken in the underground or the streets of New York, captured with all their details, form a singular perspective. Narrative worlds unfold yet the work remains a unified whole. Harold Feinstein introduces a singular tension into the narrative aesthetic between accidents and mirror effects; the work is an entity that imposes itself as an immediate sentiment, held together by its style rather than its subject matter.
Biography Harold Feinstein (1931-2015)
Born in 1931 on Coney Island in the state of New York, to Jewish immigrant parents, Harold Feinstein began taking photographs in 1946, aged 15 and armed with a Rolleiflex. At 16 he quit school and the following year, in 1948, he became the youngest member of the Photo League, alongside Sid Grossman. His work was soon acquired by the Museum of Modern Art (MoMA, New York), entering the permanent collection under the direction of Edward Steichen. From 1954 he began showing his work both in collective exhibitions (Whitney Museum of American Art, MoMA) and individually (George Eastman House, Limelight Gallery).
Recognised as an important figure of the New York avant-garde for his street photography, Harold Feinstein was enlisted for the Korean War in 1952. On his return, he settled at the Jazz Loft, designed record sleeves for the Blue Note and Signal record labels and met W. Eugene Smith, with whom he collaborated on the Pittsburgh Project.
Harold Feinstein's body of work stretches over six decades, focusing on Coney Island, portraying a diverse, people-centred and joyful America. He also taught – notably in the Annenberg School for Communication in Philadelphia. His pedagogy and philosophy, in the service of artistic vision rather than technique, left its mark on a generation.
His photographs are held in prestigious private collections and the collections of major American museums (MoMA, International Center of Photography, New York City Museum, The Jewish Museum, etc.).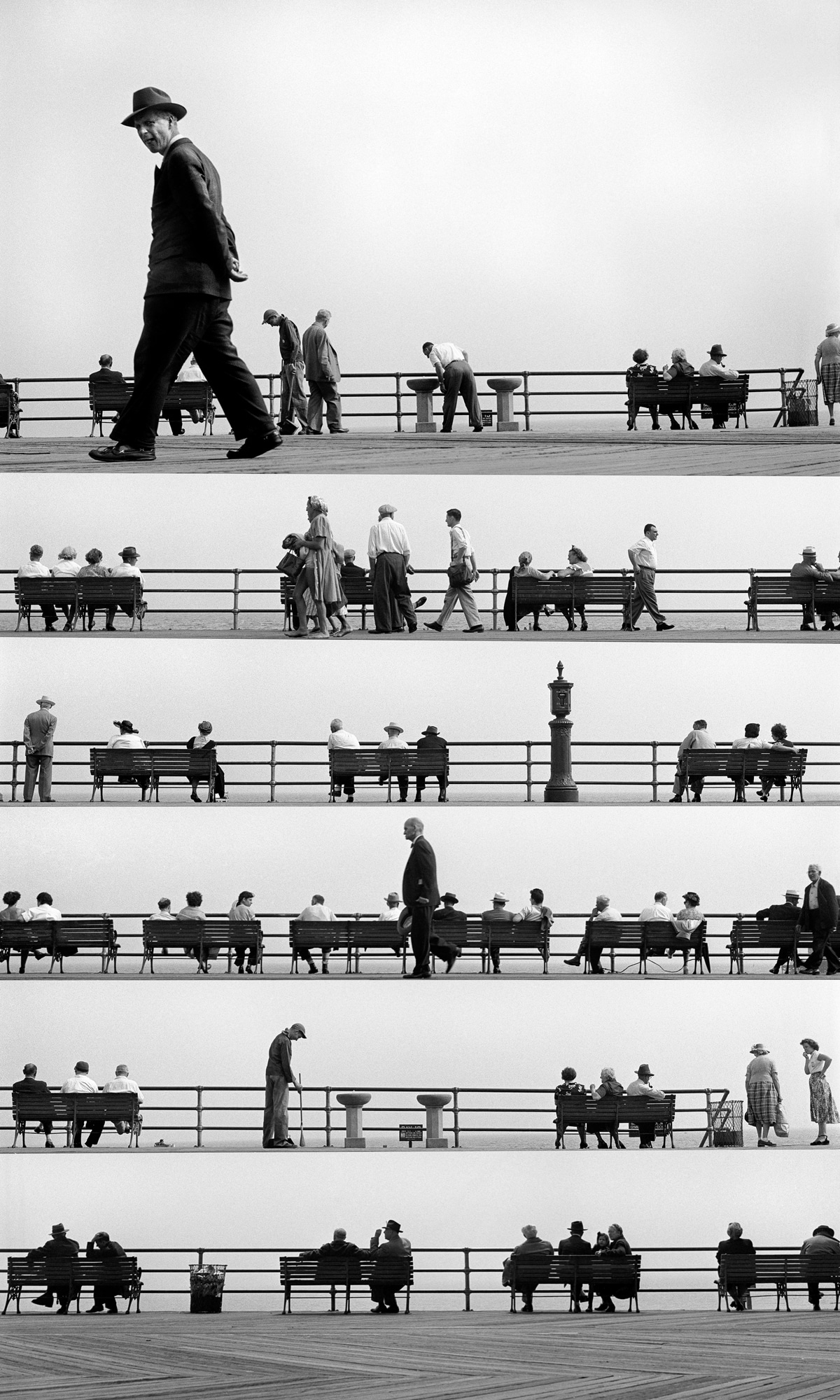 © Harold Feinstein
Boardwalk Sheet Music Montage
1952
Harold Feinstein Photography Trust, CI-251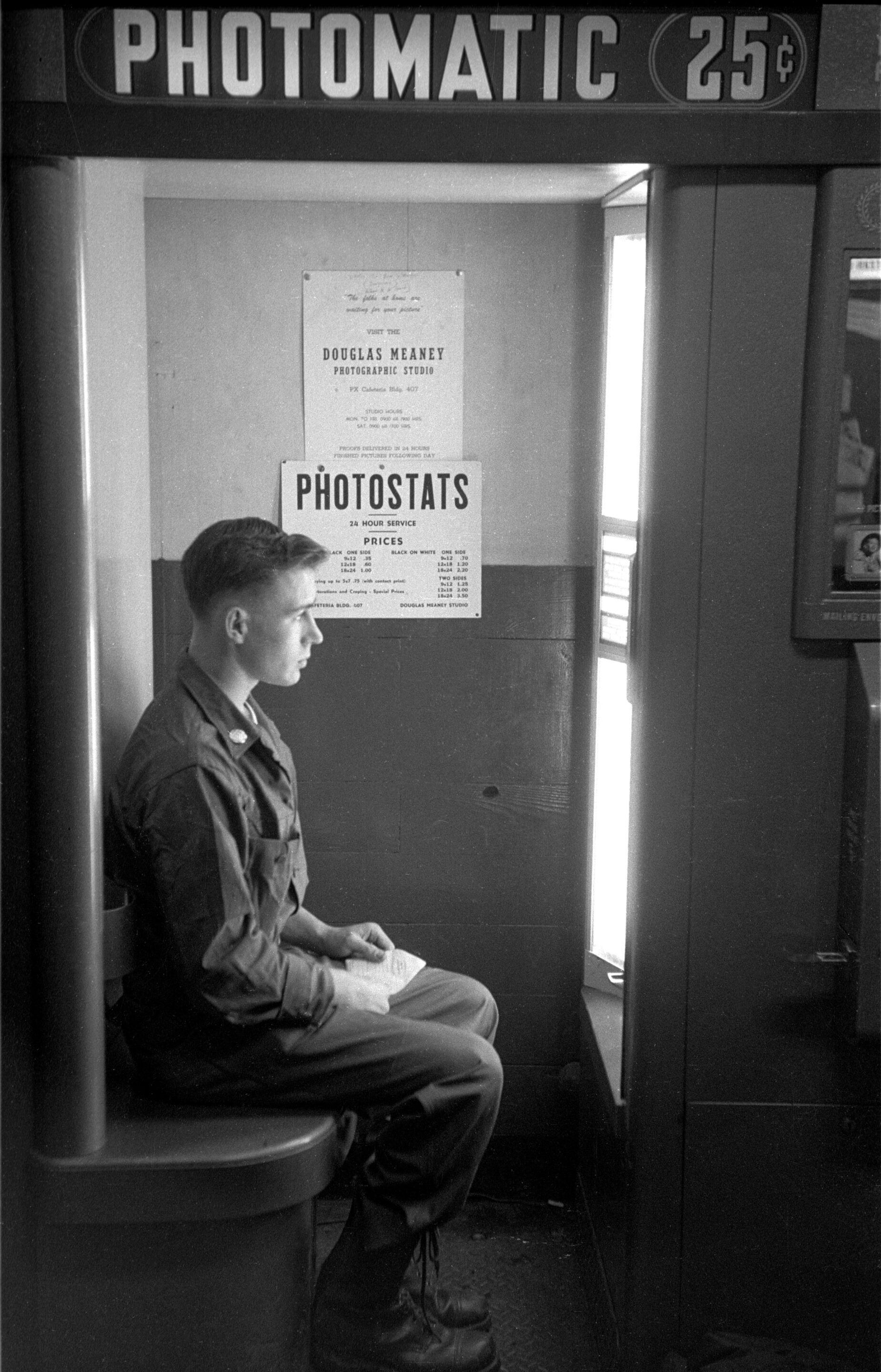 © Harold Feinstein
Draftee in Photo Booth
1952
Harold Feinstein Photography Trust, AD-004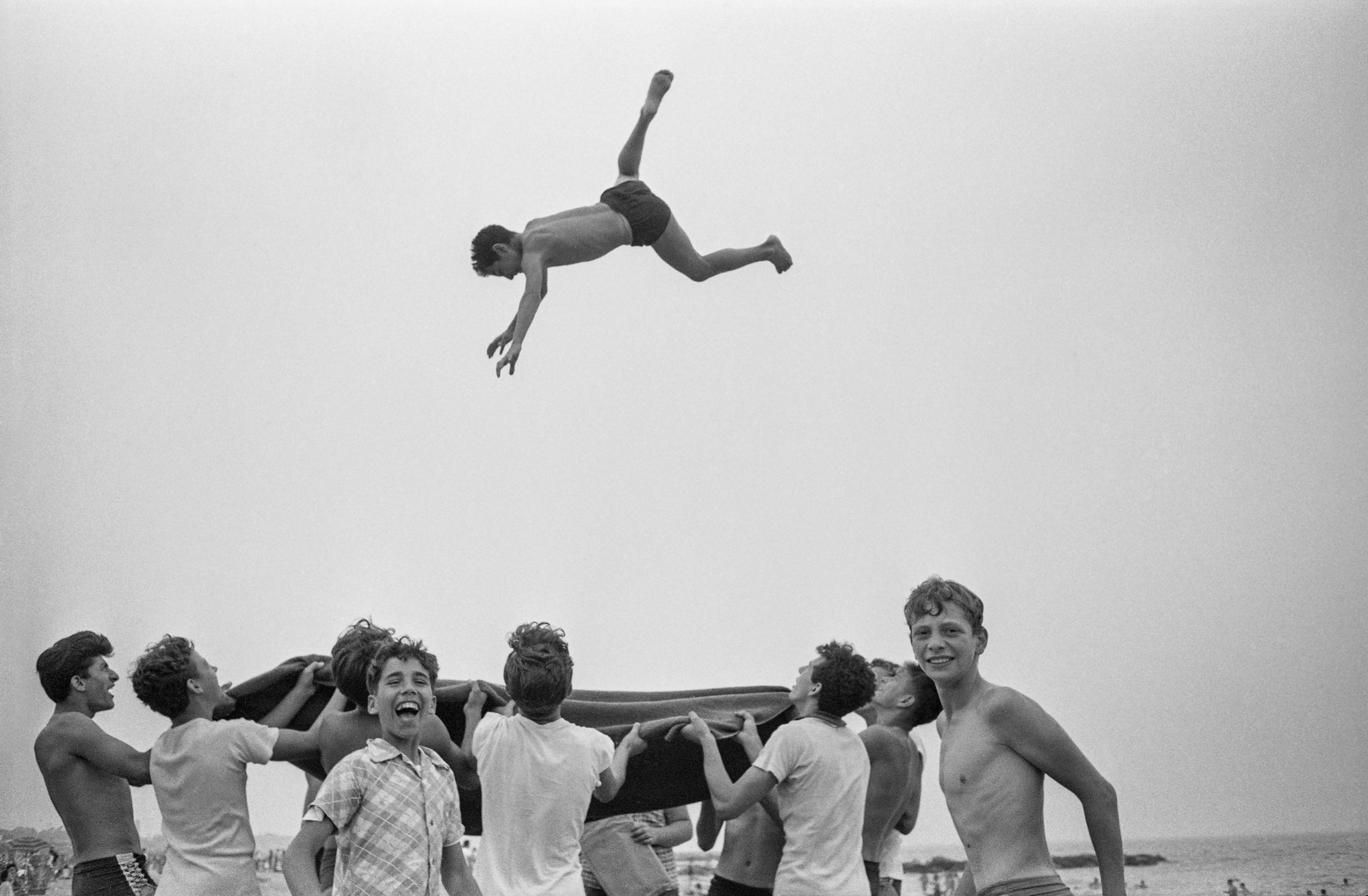 © Harold Feinstein
Blanket Toss
1955
Harold Feinstein Photography Trust, CI-008h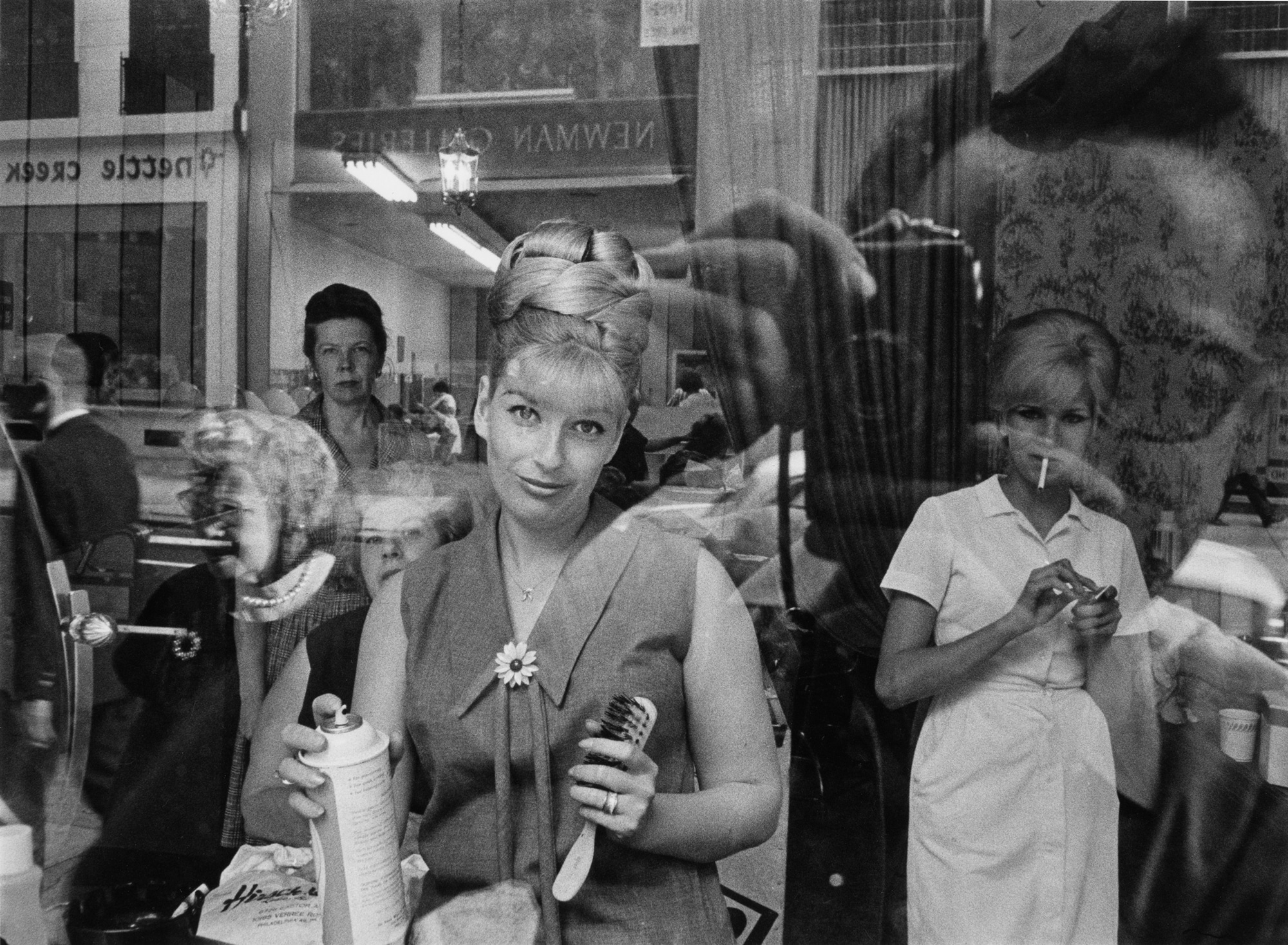 © Harold Feinstein
Beauty Parlor Window
1964
Harold Feinstein Photography Trust, CL-004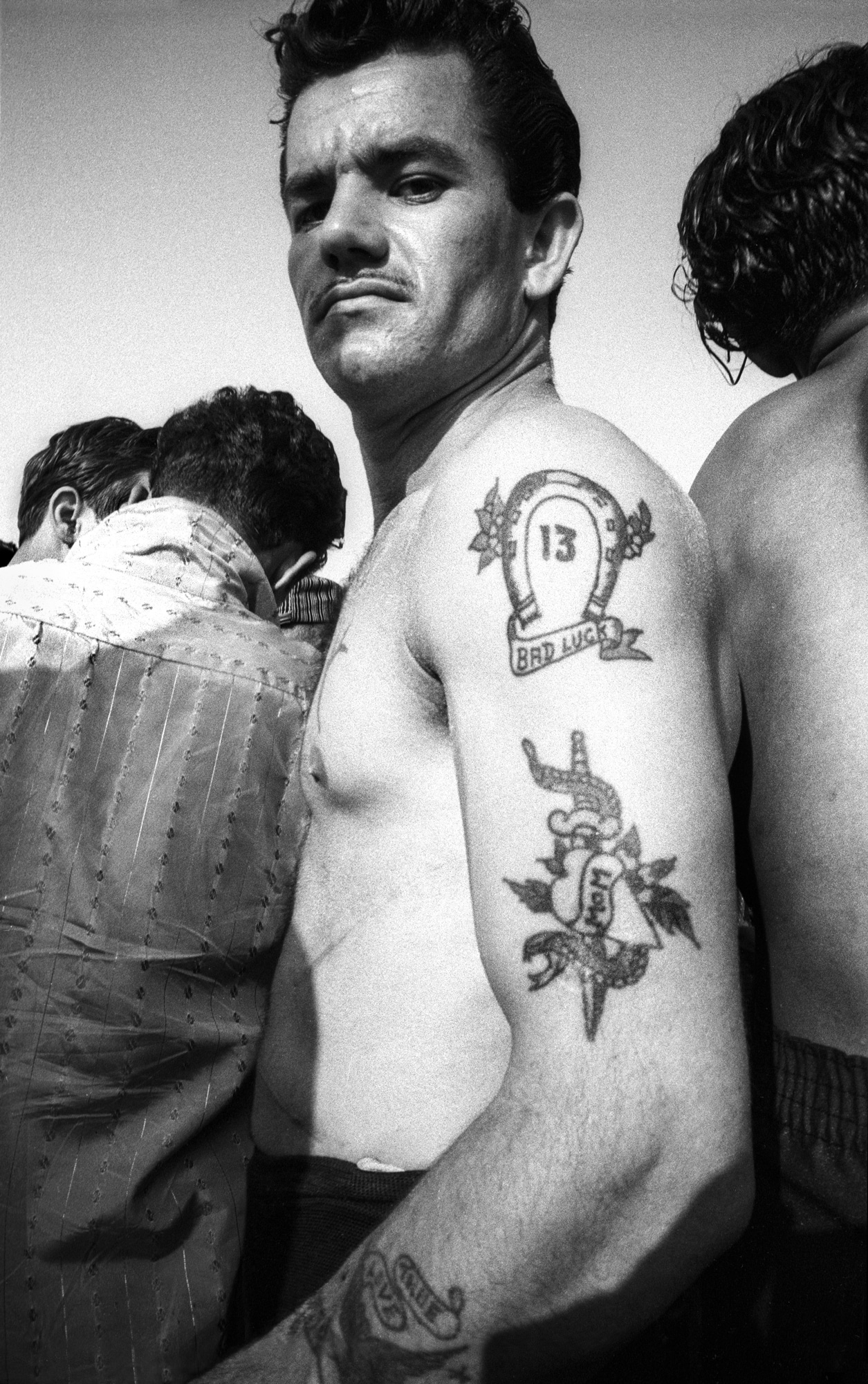 © Harold Feinstein
Bad Luck Tattoo
1957
Harold Feinstein Photography Trust, CI-004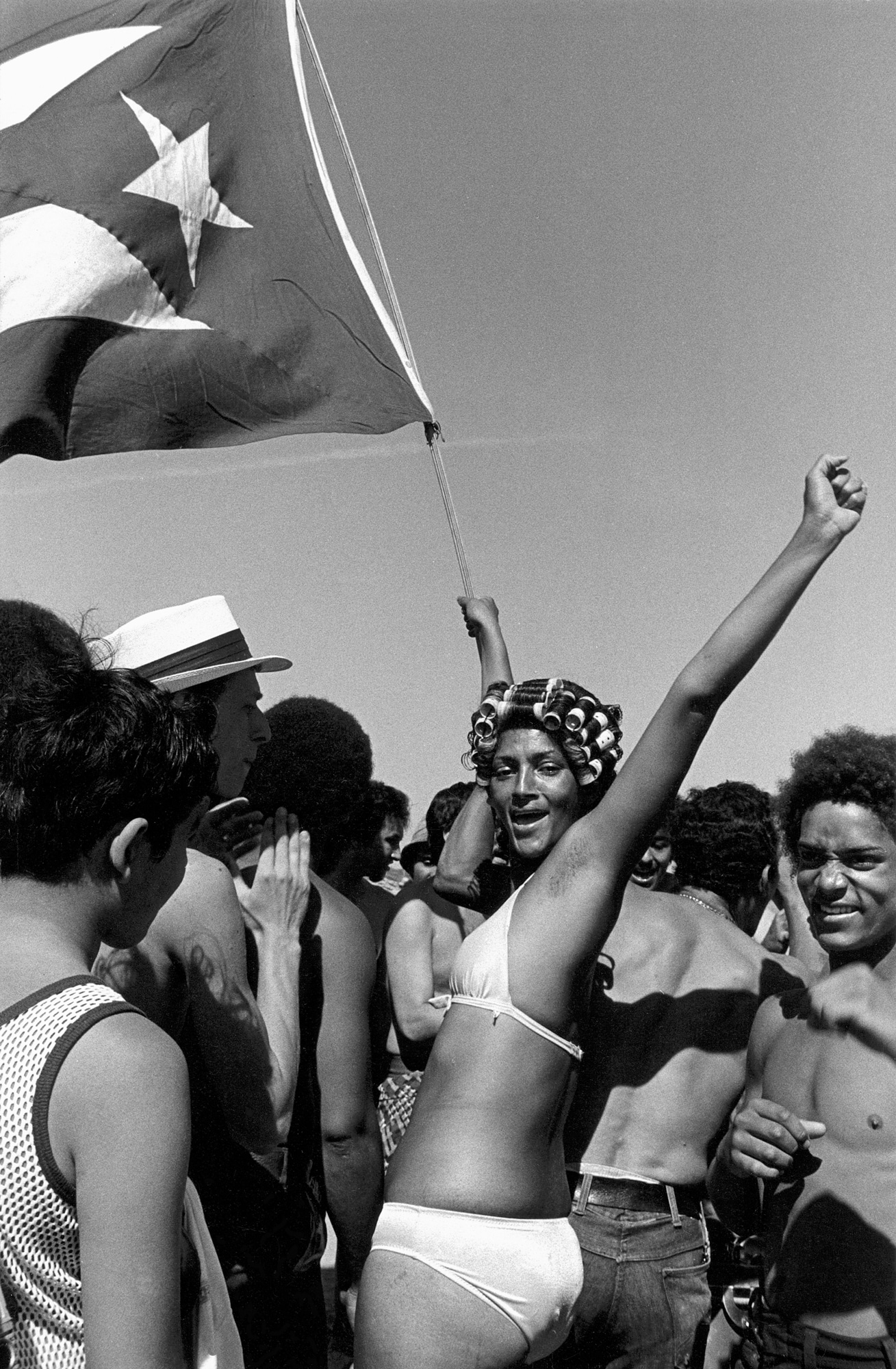 © Harold Feinstein
Viva Puerto Rico
1978
Harold Feinstein Photography Trust, CI-049
Guided tour
by Judith Thompson
director of the Harold Feinstein Photography Trust
Saturday 1rst.07
15:00

Screening and Q&A
with Andy Dunn, film director
Last Stop Coney Island.
The Life and Photography
of Harold Feinstein
by Andy Dunn
(USA, 2018,
documentary, 88'​, VOSTFR)
Sunday 2nd.07
19:00
Free access
Visites contées
Click! Click!
Lily's making a photo report on New York! She discovers all the secrets of the so-called Big Apple, from the 5th Avenue to Coney Island's Luna Park, passing by the Jazz-clubs of the 54th Avenue.
Duration : 45 min
Saturday 8.07
11:00
Wednesday 19.07
16:00
Wednesday 9.08
16:00
Saturday 26.08
11:00
Price : 4€ / – 18
From 4 years old
In French
European Heritage Days
Saturday 16.09
and Sunday 17.09
Free access

Conference
Harold Feinstein and the American 'experience'
by Jean Kempf, emeritus professor of American history and civilization at the Université Lumière-Lyon 2 and at the CNRS Triangle laboratory.
wednesday 27.09
18:30 → 20:00
Free entrance
In French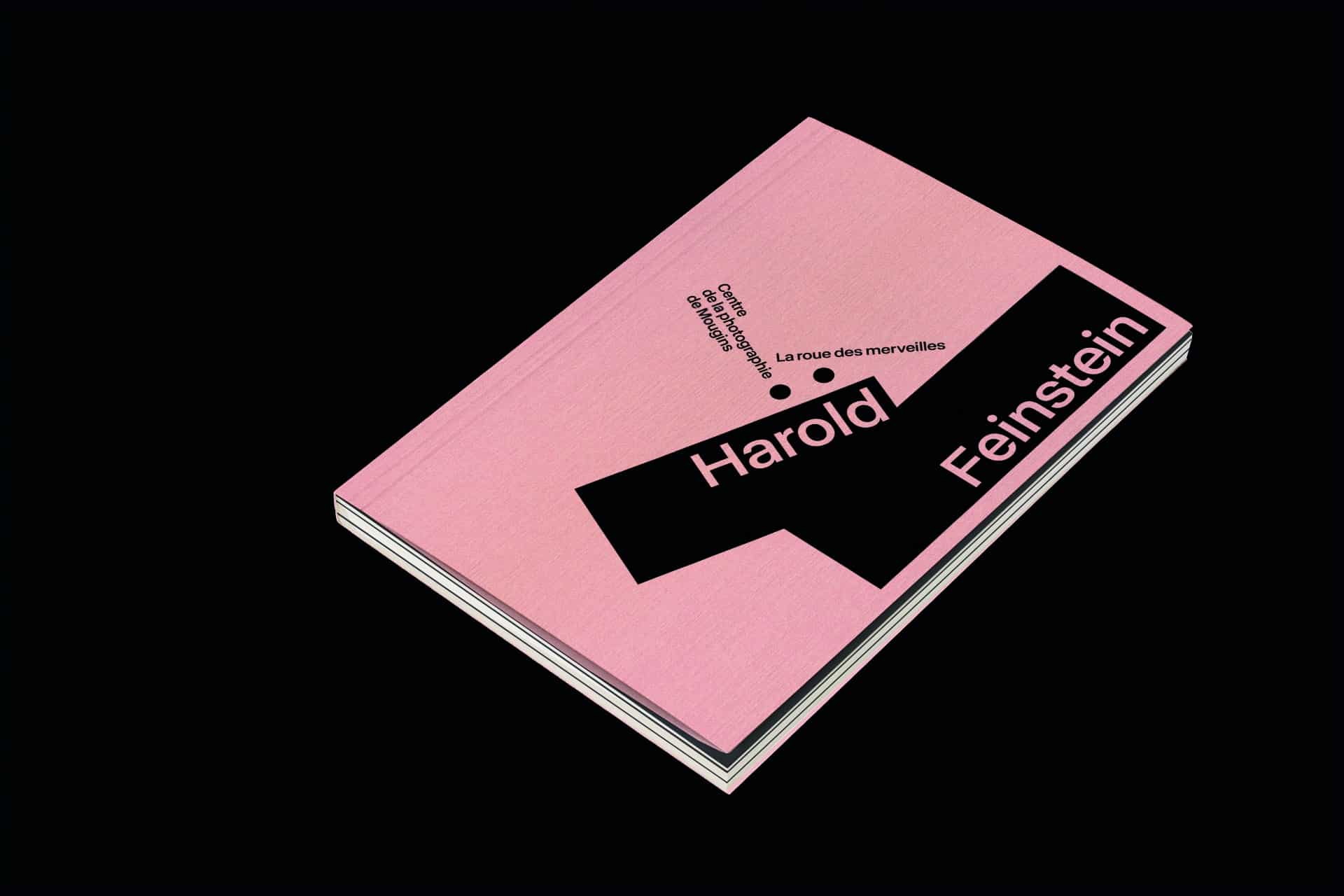 La roue des merveilles : Harold Feinstein
Authors : François Cheval, Alexis Tadié, Ya'ara Gil-Glazer, Yasmine Chemali
ISBN : 979-10-90698-55-0
Publishing: June 2023
192 pages
Bilingual French/English
29€
The Cahiers #6 of the Mougins Center of Photography are akin to the essence of Harold Feinstein – multifaceted and manifold. They bring together a scholarly contribution that delves into the legacy of the New York Photo League, compelling  writings on the Jazz Loft, the photographer's collaborations with iconic jazz labels like Blue Note and Signal, as well as his relationship with W. Eugene Smith (Pittsburgh Project). Additionally, there is a text on Coney Island, an enduring leitmotiv of the seventh art since the early 20th century, with its amusement park and nocturnal luminosity. The Cahiers #6 also encompass Harold Feinstein's involvement as a GI in the Korean War, allowing us to witness the dedication of the photographer, educator and mentor, all while harmonizing with the melodies of Duke Jordan, Lee Morgan and Gigi Gryce.
On sale at Mougins Centre of Photography's shop.
Curators: François Cheval and Yasmine Chemali
Reclaiming traditional photographic techniques is an attempt, while it is still possible, to resist the standardisation of prints that is a consequence of digital techniques. By virtue of its uniqueness, a photographic print is more than an artisanal refuge; it affirms a principle of life, a way of paying homage to nature and a refusal of the inevitability of ecological peril. Cyanotype, Prussian blue and gum bichromate, an earthy pigment, are used here to capture a residency in Mougins by Finnish-born photographer Anna Niskanen. The prints, blue for the Mediterranean and ochre for the hinterland, in large format, capture the place as it burns in the sun.
The area around Mougins is beautiful and wild, yet there is also a damaged coastline and a scarred mountain. This sums up the photographer's singular experience of complex landscapes, an admission that they are no more than poetic artefacts, an affirmation of a play on the picturesque as well as her own memories. It is as if the fabric of the landscape could protect and comfort us. Anna Niskanen's photography rediscovers through the making of images these primitive passions and the emotional spontaneity that stands in modest opposition to the false rationality of the world. An invisible presence that only the sun is capable of revealing. Under the sun, to be precise.